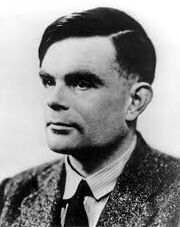 1912-1954
Turing was an excellent runner: "occasionally ran the 40 miles (64 km) to London when he was needed for high-level meetings,[53] and he was capable of world-class marathon standards.[54][55] Turing tried out for the 1948 British Olympic team, hampered by an injury. His tryout time for the marathon was only 11 minutes slower than British silver medalist Thomas Richards' Olympic race time of 2 hours 35 minutes."
in "Computing machinery and intelligence" (Mind, October 1950), Turing addressed the problem of artificial intelligence, and proposed an experiment which became known as the Turing test, an attempt to define a standard for a machine to be called "intelligent". The idea was that a computer could be said to "think" if a human interrogator could not tell it apart, through conversation, from a human being.[92] In the paper, Turing suggested that rather than building a program to simulate the adult mind, it would be better rather to produce a simpler one to simulate a child's mind and then to subject it to a course of education. A reversed form of the Turing test is widely used on the Internet; the CAPTCHA test is intended to determine whether the user is a human or a computer.
See also:
Community content is available under
CC-BY-SA
unless otherwise noted.