Definition: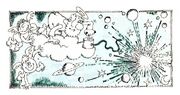 A prevailing cosmological theory at the present time, according to which the entire Universe originated from a single point around13.5 billion years ago. This point exploded, and resulted in the ever expanding Universe, formation of galaxies, stellar systems, etc.
The person who originated the theory was Georges Lemaitre , a Belgian priest, in 1927. 
Carl Sagan discusses the origin of the Universe in episode 10 of "Cosmos"
Community content is available under
CC-BY-SA
unless otherwise noted.