Definition:
Science is creation and organization of knowledge in the form which follows that of philosophy . Similarly to empirical philosophy, science relies upon careful observations of nature; science attempts to formulate laws of nature more carefully than philosophy. In other words, it doesn't jump to conclusions from sketchy evidence.
Application of science to everyday problems is technology .
Science corresponds to the industrial stage of development of society. Industrialization means specialization, e.g. from a craftsmen into workers performing special, very limited operations. Same dialectic takes place in science, as it develops from philosophy into a number of special branches of knowing. These do not communicate well with each other, and ultimately with practice, which ultimately will lead to the downfall of science as a way of knowledge. 
Science is already being replaced by a number of disciplines which unify knowledge. These are: 1) systems theory, 2) map of knowledge.
History of science:
"History of science, technology and knowledge in general ", notes from 2013
"A Short History of Nearly Everything" by Bill Bryson, 2003; PDF here; audiobook here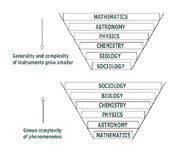 Branches of science:
Botany
Publications in science:
Scientific methodology:
Thought experiment
Other languages:
All items (26)
A
B
C
F
G
H
K
L
M
N
O
P
S
T
W
Community content is available under
CC-BY-SA
unless otherwise noted.