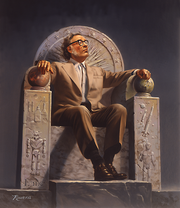 "
How do people get new ideas?
", 1959
 what is needed is not only people with a good background in a particular field, but also people capable of making a connection between item 1 and item 2 which might not ordinarily seem connected

A person willing to fly in the face of reason, authority, and common sense must be a person of considerable self-assurance. Since he occurs only rarely, he must seem eccentric (in at least that respect) to the rest of us. A person eccentric in one respect is often eccentric in others.

creation is embarrassing. For every new good idea you have, there are a hundred, ten thousand foolish ones, which you naturally do not care to display. (Hence, creation is akin to sex.)

First and foremost, there must be ease, relaxation, and a general sense of permissiveness. The world in general disapproves of creativity, and to be creative in public is particularly bad. Even to speculate in public is rather worrisome. The individuals must, therefore, have the feeling that the others won't object. (Great ideas are never a result of economic activity.)

there should be a feeling of informality. Joviality, the use of first names, joking, relaxed kidding are, I think, of the essence—not in themselves, but because they encourage a willingness to be involved in the folly of creativeness. For this purpose I think a meeting in someone's home or over a dinner table at some restaurant is perhaps more useful than one in a conference room.

 The great ideas of the ages have come from people who weren't paid to have great ideas, but were paid to be teachers or patent clerks or petty officials, or were not paid at all. The great ideas came as side issues.
Community content is available under
CC-BY-SA
unless otherwise noted.