2017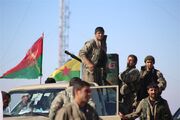 March 5 -
Russia with Kurds
against Turkey and Islamists
March 4 - the Peshmergas (Kurds of Iraq) and YBS (affiliated to PKK) are fighting each other
2014
23.12.14 – young Kurds join PKK to fight against ISIL
19 December 2014 – Peshmerga forces fighting ISIL on Sinjar mountain (Iraq)
2 November 2014 - Kobane is one of the three autonomous zones that the Democratic Union Party (PYD) and its allies have established since January in northern Syria known among Kurds as Rojava or West Kurdistan, much to Ankara's displeasure. The PYD and its military wing, the YPG, are seen as affiliates of the Kurdistan Workers' Party (PKK). The PKK has fought Turkish security forces for around three decades in pursuit of Kurdish rights in Turkey. "The government of Turkey would prefer to see Kobane fall," Cengiz Candar, an Istanbul-based political analyst and an adviser on Kurdish affairs to former Turkish President Turgut Ozal told Al Jazeera. 
Community content is available under
CC-BY-SA
unless otherwise noted.