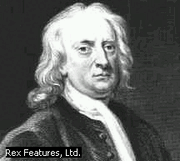 1643-1727
Newton is principally known for his invention of calculus and 3 laws of motion, thus pointing the way in science towards mechanics and the Industrial revolution, about a century later. 
Newton lived in the period of the English revolution, and was even a member of a Parliament, where he said very little. 
One of the best descriptions of Newton is Einstein's essay of 1927 "Newton" .
Other languages:
Community content is available under
CC-BY-SA
unless otherwise noted.