Leon Trotsky
Edit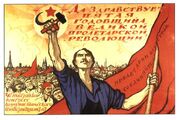 Report on the Communist International
Edit
(December 1922)
Edit
Marxism teaches us that in order for the proletarian revolution to become possible there must be given, schematically speaking, three premises or conditions. In the first place the conditions of production. The technology of production must have attained such heights as to provide economic gains from the replacement of capitalism by socialism. Secondly, there must be a class interested in effecting this change and sufficiently strong to achieve it, that is, a class numerically large enough and playing a sufficiently important role in economy to introduce this change. The reference here, is of course, to the working class. And thirdly, this class must be prepared to carry through the revolution. It must have the will to carry it out, and must be sufficiently organized and conscious to be capable of carrying it out. 
(What role in the production process is played by the "knowedge" class of workers?)
Revolutionary class must show a tendency towards self-organization, and hence organization of others.
Not to take the role of the party into account is to fall into pseudo-Marxist objectivism which presupposes some sort of purely objective and automatic preparation of the revolution, and thereby postpones the latter to an indefinite future. This automatism is alien to us.
Community content is available under
CC-BY-SA
unless otherwise noted.