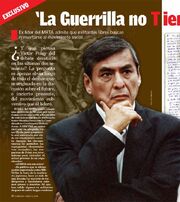 MRTA
Started in 1980's. Gained international fame when it led Japanese Embassy Hostage Crisis, in 1992.
Leader was Victor Polay, until his capture in 1992. Serves 32 years in prison (born 1951)
Wikipedia:
The MRTA originated in 1980 from the merging of the Marxist-Leninist Revolutionary Socialist Party and the militant faction of the Revolutionary Left Movement, MIR El Militante (MIR-EM)...
The first action by the MRTA occurred on 31 May 1982, when five of its members, including Victor Polay Campos and Jorge Talledo Feria (members of the Central Committee) robbed a bank in La Victoria, Lima. During the hold up, Talledo was killed by friendly fire and became the first loss of the movement.
On 31 May 1989, a group of six guerrillas shot dead eight transvestites and homosexuals in a bar in the city of Tarapoto. The weekly "Cambio", official organ of the MRTA, claimed responsibility, accusing the police of protecting "these social ills, which were used to corrupt youth."
...the MRTA suffered from infighting as well as violent clashes with Maoist rival Shining Path, the imprisonment or deaths of senior leaders, and loss of leftist support
At the height of its strength, the movement had several hundred active members. Its stated goals were to establish a socialist state and rid the country of all imperialist elements.[4]
A story of Victory Polay, from The New York Times, at the height of the Japanese Embassy take-over
"According to figures supplied by the Andean Commission of Jurists, a human rights organization, of the roughly 4,500 people killed in guerrilla conflict in Peru in 1991, the most violent year, 3,145 were killed by the military, 1,314 by Shining Path and 139 by Tupac Amaru."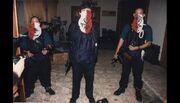 Néstor Cerpa Cartolini (August 14, 1953 – April 22, 1997) was a member, then leader of the Peruvian Túpac Amaru Revolutionary Movement (MRTA) guerrilla movement.
Cerpa was born in the Lima working class district of La Victoria.[1] As a union leader in the 1970s he was involved in the takeover by workers of the Cromotex textile factory in December 1978, which was violently ended by the military government in February 1979, resulting in the deaths of several workers. Following the release of the survivors in late 1979, Cerpa organized a sit-in at the United Nations communications office in Lima.
Shining Path is considered to be more extreme than MRTA
Community content is available under
CC-BY-SA
unless otherwise noted.