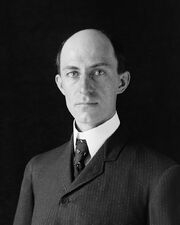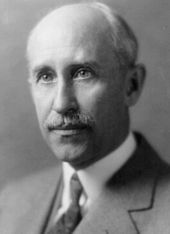 Wilbur, 1867-1912
Orville, 1871-1948
1903- first powered flight. 1905 – ½ hour flight, 24 miles ("Scientific American" suggested the flight was a hoax!), 1908 – fly for an hour, 1909 – first flight across the English channel, 1927 – Lindbergh flies solo across the Atlantic. Airplanes are now replacing the ships and trains as the long-distance means of communication. Wright brothers "were quite in the tradition of the American inventive tinkerers who make instinct, intuition and endless intelligent effort replace theory – after the fashion of the greatest noneducated intuitive genius of them all, Edison".
Development of airplane: kite -> glider -> airplane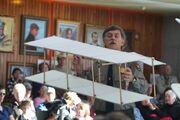 In 1903 the brothers built the powered Wright Flyer I, using their preferred material for construction, spruce,[49] a strong and lightweight wood, and Pride of the West muslin for surface coverings. They also designed and carved their own wooden propellers, and had a purpose-built gasoline engine fabricated in their bicycle shop. First flight of the Wright Flyer I was on December 17, 1903
The Flyer cost less than a thousand dollars, in contrast to more than $50,000 in government funds given to Samuel Langley for his man-carrying Great Aerodrome.[54] The Flyer had a wingspan of 40.3 ft (12.3 m), weighed 605 lb (274 kg)[55] and sported a 12 horsepower (8.9 kW) 180 lb (82 kg) engine. (It's obvious that a modern electrical motor can develop more than that)
On September 17, 1908 Army lieutenant Thomas Selfridge rode along as his passenger, serving as an official observer. A few minutes into the flight at an altitude of about 100 feet (30 m), a propeller split and shattered, sending the aircraft out of control. Selfridge suffered a fractured skull in the crash and died that evening in the nearby Army hospital, becoming the first airplane crash fatality.
Community content is available under
CC-BY-SA
unless otherwise noted.